RS090
RUSTLER/STAMPEDE WINTER SKI KIT INSTALLATION
Part no. RS090
Fits 2WD Traxxas Slash, Rustler, Rustler VXL, Nitro Rustler, Ford Raptor, Stampede, Stampede VXL, Nitro Stampede, Craniac, Skully.

To begin, you must be aware that your electronics will need to be water proofed in some way. Either by the use of balloons or plasti-dip or any other method that you may prefer. It is very important that you are aware of the risk of having your electronics damaged when exposed to water. A bit of time spent on this will save you from any potential damage.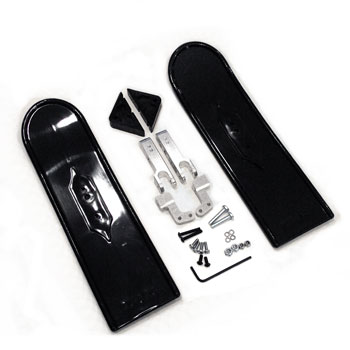 Now for the install; Carefully look at the picture showing which mounting holes to use for your vehicle.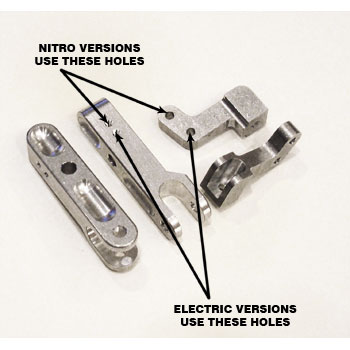 Remove both front wheels. For Nitro trucks, remove the wheel hex but leave the hex pin in place. The pin will anchor the main bracket and allow you to tighten the wheel nut back on.




Place the main ski bracket on the axle and loosely tighten the 4mm wheel nut back in place.





Remove the steering link from the arm on the front carrier.





Install the side bracket using the provided 3x8 button screw, do not fully tighten yet. Install the steering link on the top of the bracket and tighten in place using the 3x20mm screws and M3 locknut provided.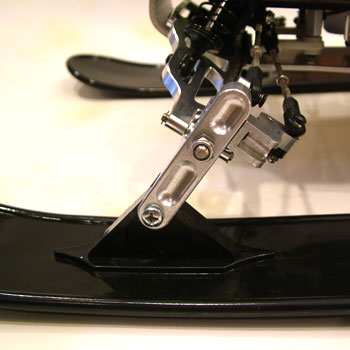 5) Now tighten the 3x8mm button screw on the side, then the wheel locknut and you are ready to go! We recommend running paddle tires or something with good traction on the rear of your truck for the best performance!